Category: Mahadev & J.-L. Gafner
(page 1 of 2)
Une soirée spéciale avec
Mahadev Cometo – sitar, electronics
Bertrand Siffert – sound and samplers
Jean-Louis Gafner – projections.
Du sitar, des projections psychédéliques et un son des plus planant pour l'occasion.
Recorded live at Haberhaus Beiz Bar Kulturklub
Schaffhausen, June 14, 2014
Video, live, s Youtube Channel (on this site)
Listen on SoundCloud, – and read the comments…
Mahadev Cometo sur la rade à Genève
Mahadev Cometo, Bertrand Siffert and Jean-Louis Gafner
La rade – Geneva, Mai 30 and June 1st, 2014
s, Event-List: 30.05.2014 | 01.06.2014
Le Courrier, Sept 18, 2014
Show PDF [550 Kb] | lecourrier.ch
Mahadev Cometo – sitar
Jean-Louis Gafner – visuals
Vincent Hänni – electronic beats
Sunset Café
Martigny, Switzerland, April 18, 2013
Details, s. Sunset-Bar in the Event-List
Le Sunset-Bar, avec sa "grotte", n'est pas un bar comme les autres.
Une ambiance unique se dégage du Sunset lors des soirées à thèmes et des concerts live délirants.
LA GRUYERES, le blog culturel du journal, déc 13, 2012
L'année dernière, Alain Monod a passé six mois à Bénarès pour perfectionner son jeu de sitar. Son carnet de voyage sera verni lors de deux soirées au Sous-Sol de Fribourg.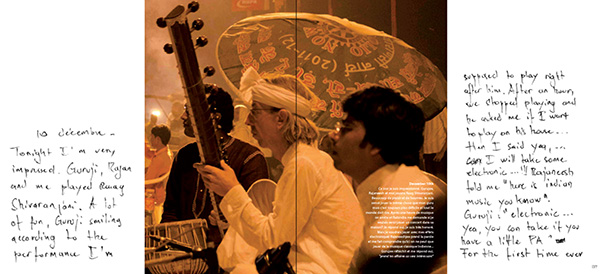 par Christophe Dutoit
Le sort est parfois plein d'ironie. Alors que le monde musical a appris hier avec tristesse le décès de Ravi Shankar, Mahadev Cometo s'apprête à donner deux concerts de sitar à Fribourg, pour accompagner la sortie de Made in India, son carnet de voyage écrit l'an dernier lors de sa résidence de six mois à Bénarès. Ironie du sort, car Alain Monod – son nom à la ville – se souvient parfaitement du jour où il a entendu pour la première fois le sitar de Ravi Shankar, lors du célébrissime Concert for Bangladesh, enregistré en 1971. Un de ces jours qui infléchissent irrémédiablement une vie. Parenthèse fermée.
Mardi et mercredi prochains, Mahadev Cometo vernira au Sous-Sol, à Fribourg, son recueil d'images et de textes glanés au bord du Gange. «D'entente avec Truce, mon éditeur, on a scanné mon carnet de notes. On peut ainsi voir comment le temps passe, comment je me mets à penser et à écrire de plus en plus en anglais», raconte l'homme-machine des Young Gods, en congé sabbatique de son groupe durant l'année 2012.
Les textes sont agrémentés de photographies, d'une interview avec Stefan Jermann, d'une préface du journaliste anglais Nick Joyce et d'une quatrième de couverture écrite par l'anthropologue Jeremie Narby, avec qui les Young Gods ont créé l'Amazonia Ambient Project.
Difficiles enregistrements
Ironie du sort toujours, ce carnet de notes était censé rester des plus secrets: «J'avais laissé un mot bien visible qui disait: "Celui qui est en train de lire ce message devrait refermer tout de suite ce carnet, car il est personnel"!» se marre aujourd'hui le Fribourgeois, qui a relu «la larme à l'œil» son texte de l'an dernier.
Depuis son retour en Suisse, en décembre 2012, Mahadev Cometo (son pseudonyme lorsqu'il joue du sitar) a donné une série de concerts, dans la foulée de deux prestations au bord du Gange, en compagnie de l'ingénieur du son Bertrand Siffert et du créateur d'effets psychédéliques Jean-Louis Gafner. Il a aussi tenté d'enregistrer des raga en compagnie de Vincent Haenni, le quatrième membre des Young Gods. «On a travaillé trois jours et fait une nuit blanche et on n'arrivait toujours pas au résultat qu'on escomptait. Alors, on a bâché.»
«Je quitte le système. Je vais peut-être sortir des vinyles, avec un titre par face.»
Adepte de yoga, l'homme de 53 ans a décidé de ne pas se faire du mouron à ce sujet. «J'ai bossé mon sitar durant deux mois, à la maison, et j'arrive maintenant à le faire bien sonner en acoustique. En revanche, c'est plus difficile de trouver un son correct en direct avec mes effets électroniques.»
Du coup, Alain Monod ne s'interdit pas de jouer de manière traditionnelle. «En acoustique, mon jeu est basé sur la finesse. Si tu ne t'es pas bien coupé les ongles, tu entends tous les dérapages!» rigole-t-il. Quant à la version électro, elle vire de plus en plus à une interaction entre Mahadev Cometo et Vincent Haenni, le second réinterprétant les sons du premier. «Nous aimons bien les expérimentations en direct.»
Un titre par face
Une chose est pour l'heure certaine: cette musique n'est pas économiquement viable. «Je quitte le système. Je vais peut-être sortir des vinyles, avec un titre par face.» Quant à un probable retour en Inde, un projet est sur la table. Mais c'est un secret…
Mahadev Cometo
Made in India
Editions Truce
Fribourg, Le Sous-Sol, mardi 18 et mercredi 19 décembre, dès 18 h.
Réservations obligatoires: info@s-sol.ch
Source  [2017]: http://www.bloglagruyere.ch/2012/12/13
December 2012, SouSol, Fribourg
Sitar: Mahadev Cometo, Visual art: Jean-Louis Gafner, Electronic beats: Vincent Hänni
First Stay in India, – Nov 2011
Mahadev Cometo And Friends
Mahadev Cometo, Rajaneesh Tiwari, Hari Paudyal, Jean-Louis Gafner et Bertrand Siffert dans une performance live au bord du Gange à Assighat / Assi Ghat, Varanasi, novembre 17, 2011. More, s. Gallery Nepal-India.
Raag Shivaranjani
You may compare this «Raag Shivaranjani» (2011) with the «Raag Shivaranjani Super Mishra» on the new album FREEDOM, released, May 2107!
Raag Shivaranjani, part 1
Raag Shivaranjani, part 2
Raag Shivaranjani, part 3
Check out another goodie,
same place, – 3 years later:  Concert at Assi Ghat, Varanasi, 2014
« Les vagues »
Same crew, same place, 2011, «Les vagues»:
« Lyoba »
Same crew, same place, 2011, Mahadev Cometo playing «Lyoba»,
a mythical song of the Gruyères Alpine herdsmen.
More videos on our YouTube Channel or use the search (searching for 'video').
Al Comet – Fribourg 2006, Mars 26th
Al Comet, Sitar with
J.-L. Gafner, psychedelic visuals
Mars 26th, 2006, Fribourg (Switzerland)
Part I