«Mahadev Cometo»
The Book

MAHADEV COMETO – Made in India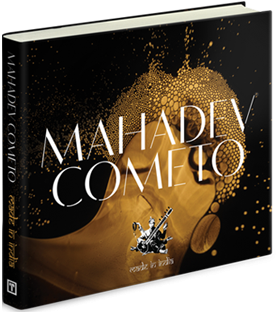 MAHADEV COMETO – Made in India
165 pages in color
English / French
Hardcover
First edition 2012
Foreword by Nick Joyce
Afterword by Jean-Louis Gafner
40 Swiss Francs including shipping& handling in CH
ISBN 978-3-033-03712-0
New: Get it at www.torticolis-et-freres.ch
[texte en français, voir ci-bas]
For ages, an old Indian Sitar had been sitting in Alain's basement, collecting dust. In 2011, he won a prize in a contest, consisting of a 6 month's residence in Varanasi, India, in a palace where the Beatles had lived, where Ravi Shankar was also a regular guest.
Within 10 days, he met a real Indian 'Guru' and acquired a wonderful instrument made by one of the best sitar-maker in town. The lessons, 3 times a week, are intense. The thoughts about this spiritual journey have now been collected in a visually challenging book published by TRUCE editions.
Preview [pdf, 3Mb] Order The Book by email

Some reviews:
Reviews in german:
Video: Dedicating the book at "Des livres et moi", Martigny 2013
---
Depuis des années un vieux un sitar indien trainait dans son grenier. En 2011, Alain gagne une résidence de six mois en Inde. A Varanasi, il habite le palais où les Beatles ont séjourné, là où Ravi Shankar avait aussi ses entrées.Les réflexions sur ce chemin spirituel sont réunies sous forme d'extraits de son journal de bord et d'images dans un livre intitulé MADE IN INDIA publié aux Editions TRUCE.
Aperçu [pdf, 3Mo] Commander le livre par courriel

Presse | Radio:
Video: Librairie "Des livres et moi", Martigny 2013