F R E E D O M
Gauri Priscilla Brülhart & Mahadev Cometo
Dance: Gauri Priscilla Brülhart– priscilla-bruelhart.com
Sitar: Mahadev Cometo
Tabla: Ram Kumar Mishra
Projections: David De Cruz
Lightshow: Philippe Ayer
Sound Master: Moreno aka Master Margherita – mastermargherita.com
Production / Mise en scène: Mahadev Cometo & Gauri
Nuithonie, Fribourg, May 2nd, 3rd and 4th, 2019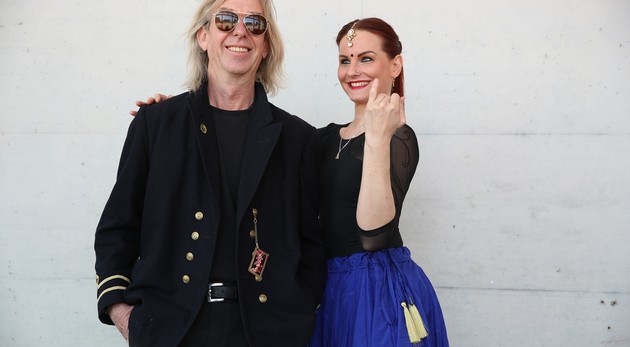 «Freedom» est né de la rencontre entre Mahadev Cometo, ex-membre des Young Gods reconverti au sitar, et la Fribourgeoise Priscilla Brülhart «Gauri» (Les nuits de l'Inde, Au rythme de Bénarès), danseuse classique indienne. Tous deux suivent un enseignement qui prend sa source dans la ville de Bénarès.

C'est donc tout naturellement qu'ils s'associent le temps d'une création inspirée par la notion spirituelle de liberté. Accompagnés par un joueur de tabla, percussion phare du Nord de l'Inde, et par la grâce poétique de Gauri, les sons mi-électros mi-ancestraux de Mahadev Cometo s'élèveront au gré des improvisations lumineuses de Philippe Ayer. Un voyage hypnotique qui transcende les frontières du réel.
Videos
Based on the album «Freedom» – Raag Shivaranjani Super Mishra , starting with the inviting "Alap", followed by "Masitkhani gat", "Razakhani gat" and the closing "Jhala".
Videos by the 'ol man called the shaky man!
Impressions
Press
La Liberté, May 2nd, 2019 [PDF, 570KB]
La Gruyère, May 2nd, 2019 [PDF, 1.1MB]
Freiburger Nachrichten, June 7, 2018 [PDF, 1.7MB]
Dossier de Presse, Nuithonie 18/19, page 16s. [PDF, 17MB]
Podcast – radiofr.ch, April 4, 2019: