Indian Vibes – Pully 2017
Mahadev Cometo & K-soul, 1st public show !
Pully, June 17, 2017, Cinéma CityClub
Read all about the project in the PDF-presentation:
pdf (en) | pdf (fr) [~900 Kb]
English version, below french text: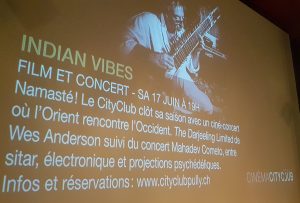 En 2014, après plus de 20 ans au sein de The Young Gods, Al Comet s'envole pour l'Inde afin de s'initier au sitar auprès d'un maître, sur les rives du Gange, à Varanasi.
Passer du son du sampler à celui de l'ancestral sitar Indien fût une aventure en soi. Il conjugue depuis lors concerts et productions discographiques sous le nom de Mahadev Cometo.
En combinant ses savoirs, il propose aujourd'hui un nouvel univers sonore, une nouvelle expérience musicale, entre tradition et modernité.
Le live s'accompagne des peintures holocinétiques de K-soul, entre lumière, peinture et poésie.
Mahadev Cometo: sitar, électronique
K-soul: peintures holocinétiques – jardincosmique.com
Details, voir Event-List