Indian Vibes – Mahadev Cometo, Pully
17.06.2017 @ 19:00

-

23:00

CEST

CHF25.00
«Indian Vibes»
Mahadev Cometo, vernissage d'album!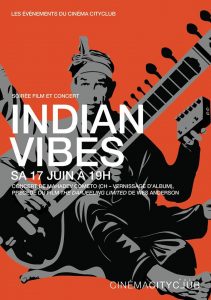 Concert «Indian Vibes» de Mahadev Cometo
Peinture holocinétique: K-soul, jardincosmique.com
Précédé du film "The Darjeeling Limited" de Wes Anderson.
Cinéma CityClub
Avenue de Lavaux 36
1009 Pully
cityclubpully.ch
facebook.com/CityClub
Samedi 17 juin 2017, 19:00
Portes : 18:00
Projection du film: 19:00
Concert  «Indian Vibes»: 21:00
CHF 25.-/20.- (membre, étudiant, avs, …, carteculture)
Petite restauration sur place
Details
Namasté ! Le CityClub clôt sa saison en beauté avec un ciné-concert où l'Orient rencontre l'Occident. L'hilarant "The Darjeeling Limited" de Wes Anderson sera suivi du concert de vernissage du premier album de Mahadev Cometo, entre sitar, électronique et projections psychédéliques.
21h : Ciné-concert Concert «Indian Vibes»
En 2014, après plus de 20 ans au sein de The Young Gods, Al Comet s'envole pour l'Inde afin de s'initier au sitar auprès d'un maître, sur les rives du Gange, à Varanasi. Passer du son du sampler à celui de l'ancestral sitar Indien fût une aventure en soi. Il conjugue depuis lors concerts et productions discographiques sous le nom de Mahadev Cometo. En combinant ses savoirs, il propose aujourd'hui un nouvel univers sonore, une nouvelle expérience musicale, entre tradition et modernité, et vient au CityClub pour vernir son premier disque en solo. Avec : Mahadev Cometo (sitar, électronique), K-soul (holokinetic paintings)
Précédé à 19h du film The Darjeeling Limited de Wes Anderson
(Etats-Unis, 2007, 1h31, v.o. s-t fr., 10/16)
Une merveille d'humour, une quête philosophique de guingois ! Trois frères américains, Francis, Peter et Jack, font un long voyage en train à travers le nord de l'Inde un an après la mort de leur père. Leur périple à bord du train est parsemé d'incidents loufoques et égayé de rencontres inattendues. Planifié comme une initiation spirituelle, ce parcours doit aussi les mener à leur mère, cloîtrée dans un couvent himalayen, et sera l'occasion de ressouder la fratrie.
[Texte de Cinéma CityClub on FB]