Silent Films IOIC – Live Music Mahadev Cometo with Superterz
Silent Film: SHIRAZ – A Romance of India, 1928
Live Music: Mahadev Cometo & Superterz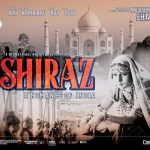 MARATHON OF LIFE AND DEATH
9th IOIC Silent Film Festival with live music.
30. Nov. 2018 @ 20:00
Kunstraum Walcheturm | ioic.ch
Kanonengasse 20, Zürich
IOIC Zurich – Program 2018 [pdf, 1.7Mb]
SHIRAZ – A Romance of India – A Silent Love Story.
Director Franz Osten (IN/UK/DE 1928, 106 min, HD), IMDB
Newly restored with a sumptuous new score from Anoushka Shankar by the BFI National Archive (bfi.org.uk). A Romance of India, telling the love story of the princess who inspired the building of the Taj Mahal.
Live Music: Mahadev Cometo & Superterz
Mahadev Cometo (sit, elec)
Ravi Vaid (elec)
Marcel Vaid (g, elec)
Koho Mori Newton (voc, perc)
Chris Jaeger (dr, perc)
After the show
Videos and more: silent-films-ioic-music-mahadev-cometo-with-superterz-live