A-Poetik – 300'000 km
Produced by Al Comet, July 2001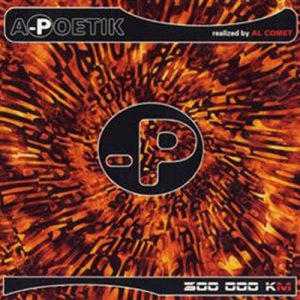 A-Poetik – 300'000 km
A-POETIK RECORDS – UNIVERSAL MUSIC
Released in July 2001 during the Montreux Jazz festival
Project created by a-poetik in 1997 with poetry and electronic music.
Produced and realized by Al Comet / Engineered by Al Comet & Bertrand Siffert @ Relief studio.
Released in July 2001 during the Montreux Jazz festival..
« Autoroute » by A-Poetik
A-Poetik: m.baldassarri – l.forcucci – s.mercier – n.zimmerli
Texte et voix: m.baldassarri
Artwork by m.b.
or listen on SoundCloud
or visit lucaforcucci.wordpress.com